Breaking Down the Walls? Old and New Barriers to Social Cohesion in Arts, Culture and Media
Wydział Dziennikarstwa, Informacji i Bibliologii Uniwersytetu Warszawskiego zaprasza na wydarzenie "Breaking Down the Walls? Old and New Barriers to Social Cohesion in Arts, Culture and Media" tworzone w kolaboracji z Media Diversity Institute Global. W ramach wydarzenia rozpatrzymy wpływ sztuki, kultury i sektora medialnego na spoistość społeczną. Poprzez dzielenie się swoją wiedzą i wymianę idei, pomogą nam w tym zaproszeni przez nas artyści, naukowcy, przedsiębiorcy i studenci (a także publika!).
Nasze dwugodzinne wydarzenie odbędzie się w Muzeum Sztuki Nowoczesnej w sercu Warszawy, dnia 11 maja 2023 roku w godzinach 18:00 – 20:00. Podczas spotkania zapewnimy napoje oraz poczęstunek, a wstęp na wydarzenie będzie darmowy. Należy pamiętać, że nasze rozmowy podczas wydarzenia odbywać będą się w języku angielskim. Zapraszamy na stronę wydarzenia na Facebook'u oraz zachęcamy do zapoznania się z rozszerzonym opisem wydarzenia w języku angielskim, dostępnym poniżej.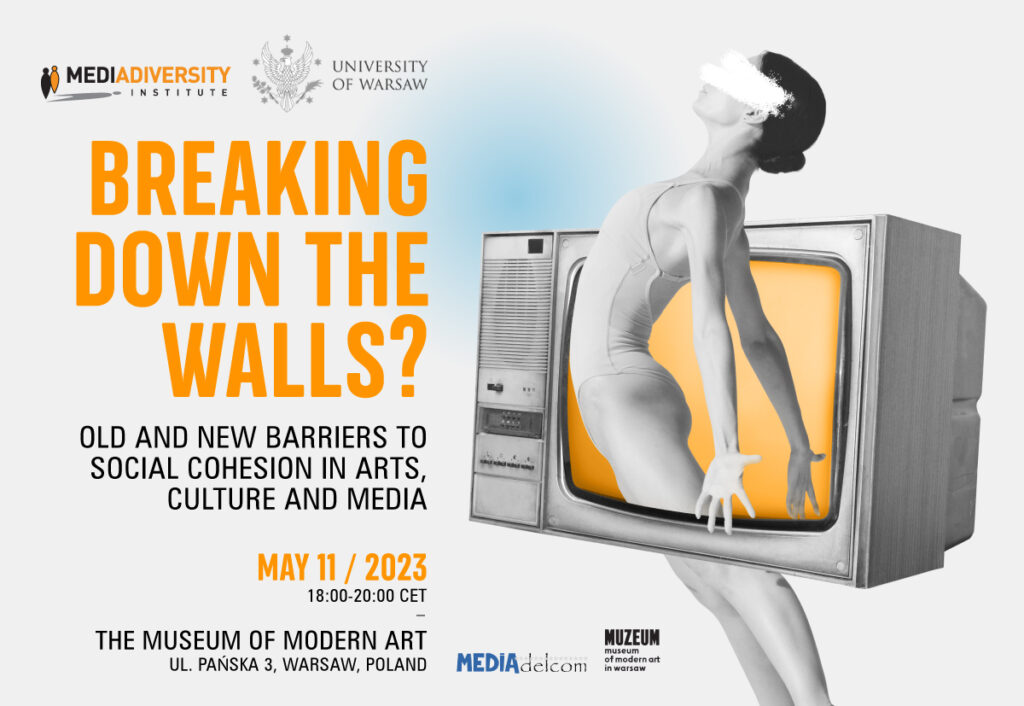 When?
May 11, 2023, 18:00-20:00
Where?
The Museum of Modern Art
ul. Pańska 3, Warsaw, Poland
Moderators
Milica Pesić, Media Diversity Institute Global
Michał Głowacki, University of Warsaw
Speakers
Michał Janicki – Painter, creative/art director
Shady Lady – Drag queen, artist & activist
Agata Szczęśniak – Journalist OKO.press
Andrzej Krakowski – Director, film producer
Hanna Azemsha – Journalist Biełsat TV
William Tayeebwa – Ugandan media professor
In an era of polarization, lies and conspiracy theories, walls are going up between people with differing views, religions, and politics. With limited opportunities to talk and listen in a respectful way – to deliberate – what will it take to break down those barriers? While attention often focuses on what politicians and the media should do, what about the creative sector? What role can artists play in preserving freedom and promoting deliberation in order to bring communities closer together?
The Faculty of Journalism, Information and Book Studies, University of Warsaw, in collaboration with the Media Diversity Institute Global, is organizing an event which will explore the contribution the arts, culture and media sector can make to social cohesion. We are inviting culture and arts creatives, scholars, local entrepreneurs, students and the wider public to share their knowledge and exchange ideas. The two- hour-long event will take place in the Museum of Modern Art in the heart of Warsaw on May 11, 2023 (18:00-20:00), with food and drinks provided. It will be free of charge; the language is English. Click here to participate: https://facebook.com/events/s/breaking-down-the-walls-old-an/3457467061196298/
The Theme: Freedom–Democracy–Diversity
Regardless of geography, democracy and freedoms are in decline. Various sectors of the community are navigating the changing norms, pressures and restrictions as they find themselves in a new societal and data-driven media reality. While there are scholarly and policymaking discussions and conferences to examine the histories and future visions of culture, media, and arts, we need more opportunities for sharing our own experiences and exploring practical solutions. We, therefore, suggest a more informal way of knowledge sharing on the democratic experience, juxtaposing various voices for future policymaking, democratic citizenship and wellness. Our theme critically examines what builds today's democratic expression conducive to societal (and technology) change and adaptation. We will explore what we can do to foster – and save – democracy. What role can deliberative communications – the sharing of ideas through respect – have? And will engaging communities in discussions, events and decision-making lead to more social cohesion and combat polarization and misinformation?
Why should I come?
Speakers will share their culture and arts freedom experiences, which will map the opportunities and risks in Poland. We will be joined by the Media Diversity Institute Global to disseminate our experience in future European policy advocating, especially when it comes to diversity and inclusion, the management of arts, media and culture, with the ongoing call for public service media freedom and sustainability.
We are inviting international media scholars, who will come to Warsaw to study and compare media and democracy as a part of a wider European scholarly project MEDIADELCOM. It is a 14-country research project financed by the EU, examining the risks and opportunities for deliberative communications and social cohesion in Europe. It will develop a diagnostic tool that will enable the modelling and management of multiple scenarios and instruments for media-related risks prediction.
Contact
Dr. Jacek Mikucki
Faculty of Journalism, Information and Book Studies University of Warsaw
j.mikucki@uw.edu.pl
Organisers
Faculty of Journalism, Information and Book Studies University of Warsaw, Poland
https://en.uw.edu.pl
The Media Diversity Institute Global